Announcing Our 2020 Big Blue Employees of the Year!
We recently held our first virtual company picnic. While we wish we could have been in person to recognize our accomplishments and embrace the challenges we have had to overcome this year, we are so grateful that we were able to celebrate our own Big Moments together over Zoom.
As part of our virtual picnic, we announced our Big Blue Employees of the Year for our five Chicagoland locations. Employees were nominated by their peers and selected by the General Managers and management team based upon their performance and their embodiment of Big Blue's core values.
If your kids have ever taken swim lessons from the following staff members, please give them a shoutout at your next swim lesson for all of their hard work and love for what they do: teaching kids the lifesaving skills of swimming every day.
North Center Employee of the Year: Sylvia Almazan
Joined Big Blue in June 2019
Favorite Big Blue value: Make Teamwork Happen - Be a champion for others
Favorite swimming memory: Cheering on her high school swim team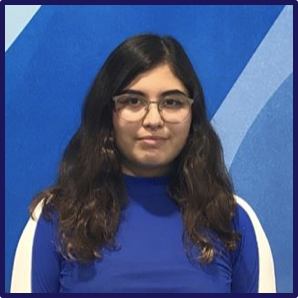 Sylvia is North Center's Employee of the Year because she is always making teamwork happen by covering shifts for absent employees and staying for custodial duties to ensure the facility is clean. Sylvia also runs great classes that are fun, motivating, and safe! Parents and kids love her style of teaching. She also radiates energy by always coming to work with a smile. Sylvia may be quiet, but she makes a big impact by her presence, lessons, teamwork, and by living the Big Blue mission.
Niles Employee of the Year: Tyler Hanson
Joined Big Blue in 2014
Favorite Big Blue value: Radiate Energy - Be the sun
Favorite swimming memory: Swimming in a lake in Wisconsin when he was younger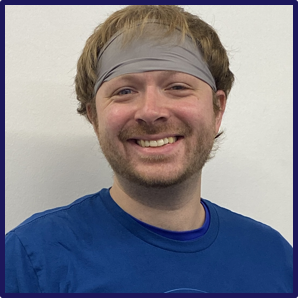 Tyler has worked at the Wilmette, Buffalo Grove, and Niles Big Blue locations over the last several years. He radiates energy in every level that he teaches. It is hard to find an open class with Tyler! He has built a great rapport with many of our families. Tyler is always looking for new ways to teach and adjust lessons. In particular, he has a passion for improving our Special Needs training and researches ways to improve on his own time. Tyler is the embodiment of showing passion for our mission.
Wilmette Employee of the Year: Lazar Georgiev
Joined Big Blue in March 2017
Favorite Big Blue value: Reach Beyond Your Grasp - Be better today than you were yesterday
Favorite swimming memory: He loves seeing the Babies that he has taught move up to Brights and Bolds, especially when they stick with him as their teacher through all of the levels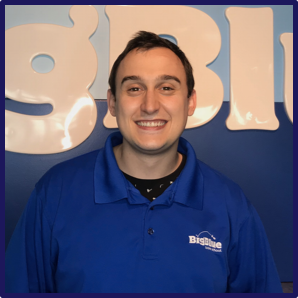 Lazar is laser focused on growing his career at Big Blue. He was promoted to Deck Supervisor last year because of his leadership and mentorship skills. During leadership meetings, he brings ideas to the table that he believes will make the company stronger. Lazar has organized team building events and shared his input on the employee experience with the corporate team. He is very reliable and constantly strives to live out the Big Blue culture and values.
Hoffman Estates Employee of the Year: Jacob Lopez
Joined Big Blue in July 2019
Favorite Big Blue value: Show Passion for Our Mission - Be the change you want to see
Favorite swimming memory: When he moved up his first Baby Blue swimmer to the Bright Blue level; he felt so accomplished that day!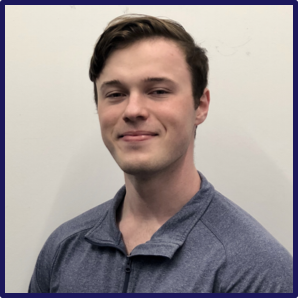 Jacob lives the Big Blue values every day. His is always the first Swim Associate to arrive and never leaves before asking the manager if there's anything else he can do to help. He is eager to learn and always comes to work with a professional, positive attitude. He teaches amazing swim lessons and is one of our most recommended Swim Associates for all levels. Jacob is also very inclusive and welcoming. He is quick to introduce himself to new employees and share teaching tips and advice.
Buffalo Grove Employee of the Year: Joseph Boyd
Joined Big Blue in October 2019
Favorite Big Blue value: Radiate Energy - Be the sun
Favorite swimming memory: Swimming with his families on Sundays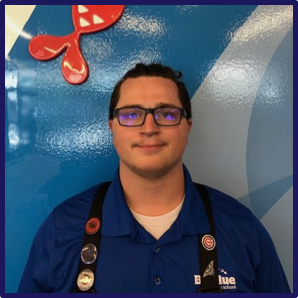 Joseph lives for Big Blue. When he walks into the facility, the energy he radiates is amazing. He is so patient and committed to helping every child unlock their full potential in the water. Parents and children alike gravitate to him for his considerate and understanding manner. The kids that he teaches have so much fun and leave his class happy. Joseph goes above and beyond to help and is always looking for ways to improve Big Blue. He works hard and makes everyone around him strive to be better.