Meet the Johns Creek Assistant Managers: Ashley and Gabby
While our Swim Associates are who make swimming lessons so special for your kids, it's the managers who keep the operations running so smoothly day-to-day. Ashley Mudrey and Gabby Campos are the Assistant Managers at Big Blue Swim School Johns Creek. At any given time, you may see Ashley and Gabby on the pool deck, behind the front desk, in the lobby talking to families, or sometimes in the pool lending a helping hand. They do it all, and they make it look so effortless. In this interview, Ashley and Gabby share their background and give insight into what it's like to work at Big Blue Swim School. We encourage you to give it a read, and say hi to Ashley and Gabby next time you see them at the pool!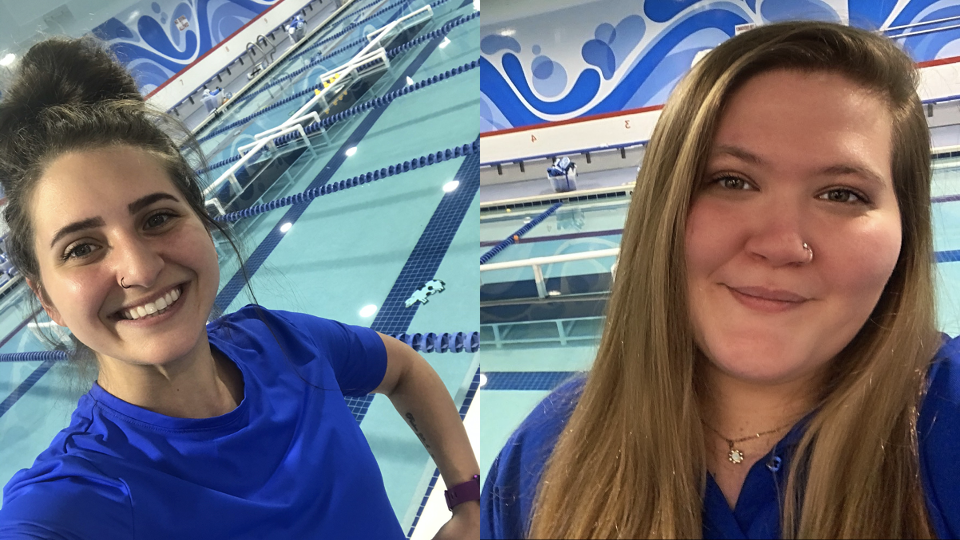 How long have you worked at Big Blue Swim School?
Ashley: I've been with Big Blue for almost 7 months!
Gabby: I've been with Big Blue for almost 8 months!
What led you to work at Big Blue?
Ashley: I decided to join Big Blue because of my experience working with children and my passion for helping others.
Gabby: I love working in the aquatics industry, and Big Blue is seen as one of the top competitors in the field. I felt like there was a lot I could learn from them in order to develop myself professionally.
What is your favorite part of the job?
Ashley: As an Assistant Manager, problem solving and teamwork are needed in everything I do. My favorite part of this job is learning how to grow from all situations while utilizing problem solving skills and helping others. I learn something new every day! It is also a huge plus that our staff is easy to connect with. We always leave work with a lot of laughs at the end of the day.
Gabby: My favorite part of the job is being able to show and inform parents of how far their swimmers have progressed. It is a great feeling when parents greet their swimmers after class and the first thing the swimmers say is "I GOT A STAR!"
What is your favorite swimming memory?
Ashley: When I was a kid, I would play all kinds of games in the pool. I never swam competitively, but I was really good at this game called Alligator. To this day, I still hold the title as undefeated champion in the neighborhood I grew up in (or at least that's what I choose to believe)!
Gabby: My favorite swimming memory is when my dad and I would race in the pool and see who could hold their breath the longest. He is a scuba diver and swam competitively, so there wasn't much of a competition, but we still had a lot of fun!
What do you like to do outside of work?
Ashley: I love to go hiking and kayaking. I've always been an outdoorsy person and love any adventure out in the fresh air! One of my favorite places to go hiking is Yonah Mountain in Cleveland, GA. The view never disappoints!
Gabby: Outside of work you can catch me pursuing my masters degree (yes, it can be fun) and hanging out with my Black Labrador Retriever named Molly.
What is a fun fact that Big Blue families should know about you?
Ashley: I never considered myself much of a gamer, but I am really good at Guitar Hero. It is my absolute favorite game to play to this day. My competitive spirit mixed with my love for 70's and 80's rock is beyond satisfied by playing Guitar Hero.
Gabby: I am also a scuba diver, and I am full of ocean facts! I can tell you just about any interesting fact about the ocean and the creatures that inhabit it - especially whales - or even about some of my past experiences from scuba diving!