COVID-19 Prevention & Cleanliness Practices at Big Blue Swim School
Last updated April 1, 2022
Given the evolving nature of this pandemic, we are continuously monitoring CDC guidelines as well as those of other federal, state, and local agencies to ensure we comply with the most up to date recommendations. We wanted to take a moment to provide a quick update and reminder of our Big Blue Health and Safety practices. Keep in mind some requirements may vary by swim school so please contact your local pool if you have specific questions.
Before you Arrive:
If your child or someone else in your household is not feeling well, we ask that you please stay home and utilize our make-up lesson policy.
We recommend arriving dressed in swimsuits to limit the use of changing rooms prior to your kids swim lessons.
Social Distancing:
We continue to space chairs in the viewing area to provide distance between yourself and other patrons.
In our Chicago-area locations, caregivers must stay in the viewing area and are not allowed on the pool deck.
We encourage you to limit the size of the group accompanying your swimmer(s) to lessons, ideally with one adult accompanying up to three children.
Personal Protective Equipment (PPE):
All staff are required to wear the appropriate PPE for their shift for the duration of their time in the building, including face shields for instructors in the water as well as masks and gloves for front desk staff and those on custodial duties.
Face masks that cover the mouth and nose are strongly encouraged in all of our schools. Children do not wear masks while in the pool area.
Enhanced Cleaning Protocol:
We disinfect all high touch surfaces including changing rooms, chairs, and in-pool teaching tools with a product that meets EPA's criteria for use against SARS-CoV-2, the virus that causes COVID-19. This product is listed as safe for settings such as hospitals, NICUs, schools, and daycares.
All high touch surfaces are also deep cleaned at the end of each evening by members of our staff with a disinfectant that also meets EPA criteria for use against SARS-CoV-2.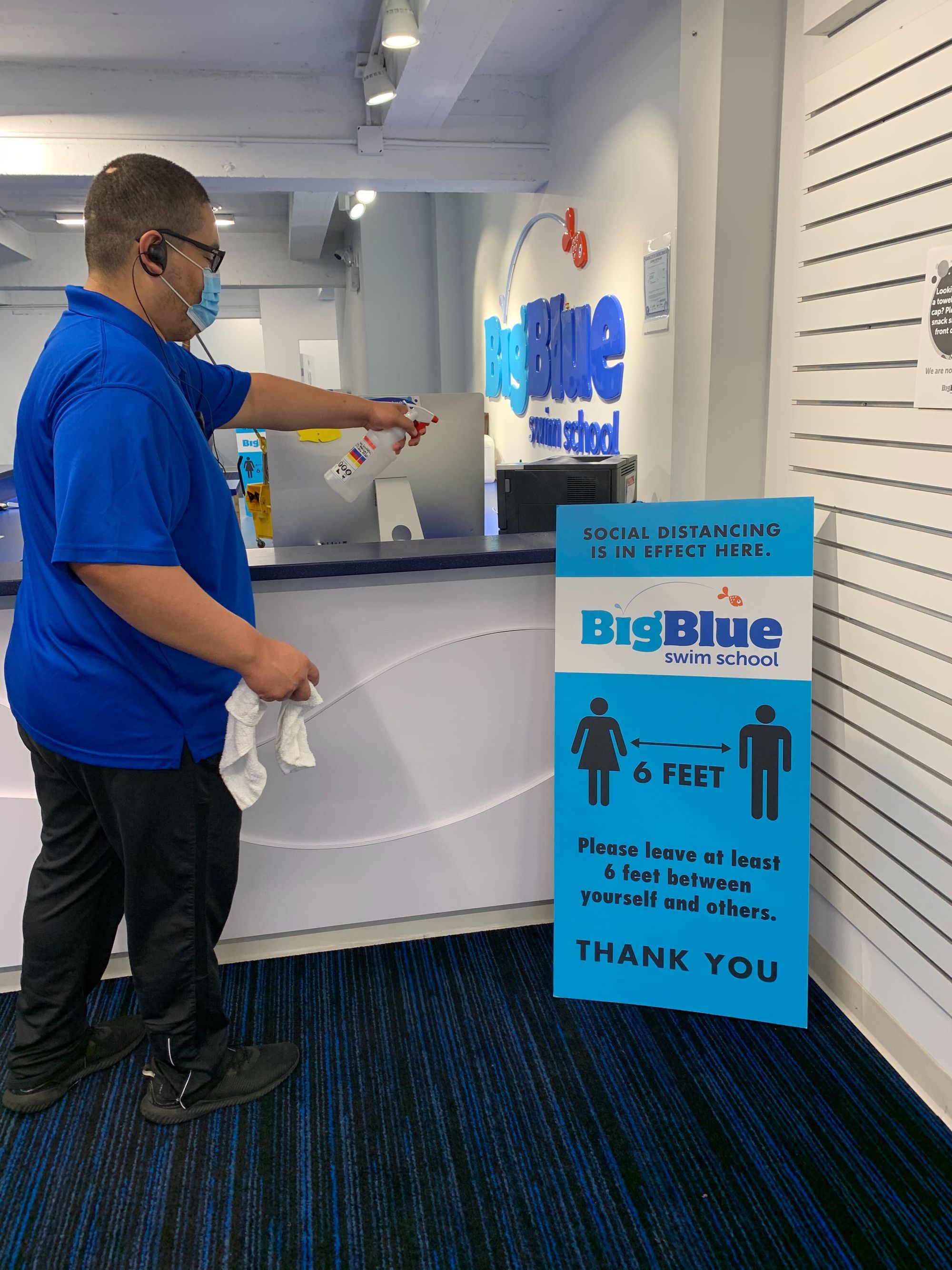 While we work hard to prevent any cases of COVID-19 within our facilities, we recognize that may not always be possible. If we receive notification of a positive case who has been in our facility, we will immediately work with the individual via direct interview as well as our digital attendance records to identify any incidences of close contact with staff members, swimmers, and family members while maintaining their privacy, in accordance with local, state, and federal guidelines.
We will then promptly notify all staff of that facility, as well as all families who were in the facility on the same day as the infected individual.
A separate and direct communication will be made with any staff or families who had close contact with the infected individual, while being mindful to protect personal identifying details of the positive individual. All staff found to be in close contact are given recommended locations for testing and are asked to quarantine in accordance with current federal, state, and local guidelines plus the direction of their medical provider. All families are recommended to consult with their medical provider.
Thank you for doing your part to help keep Big Blue swim lessons as safe as possible for our whole community!