Research from the National Institute of Health (NIH) shows that formal swimming lessons reduce the risk of accidental drowning in children ages 1-4 by 88%. That kind of statistic may be enough for any parent to run to book a swim lesson. The American Academy of Pediatricians (AAP) recently shifted their recommendation to start swim lessons by 1-year-old, instead of by age 4, if a child is comfortable around water from frequent exposure and shows signs of readiness.

So when is the right time to teach a baby to swim? The comfort and readiness piece is important. Starting swim lessons at a young age gives babies time to safely, and regularly, enjoy being in the water.

That enjoyment is one of the best ways to prepare a child to learn to swim. Infant swim classes are a fantastic opportunity to build comfort in the water and prevent any water-related fears from setting in. Our Baby Blue program starts at 3 months, with parent or caregiver participation, and takes place in our warm pools and colorful environment.
---
Benefits of starting swim lesson early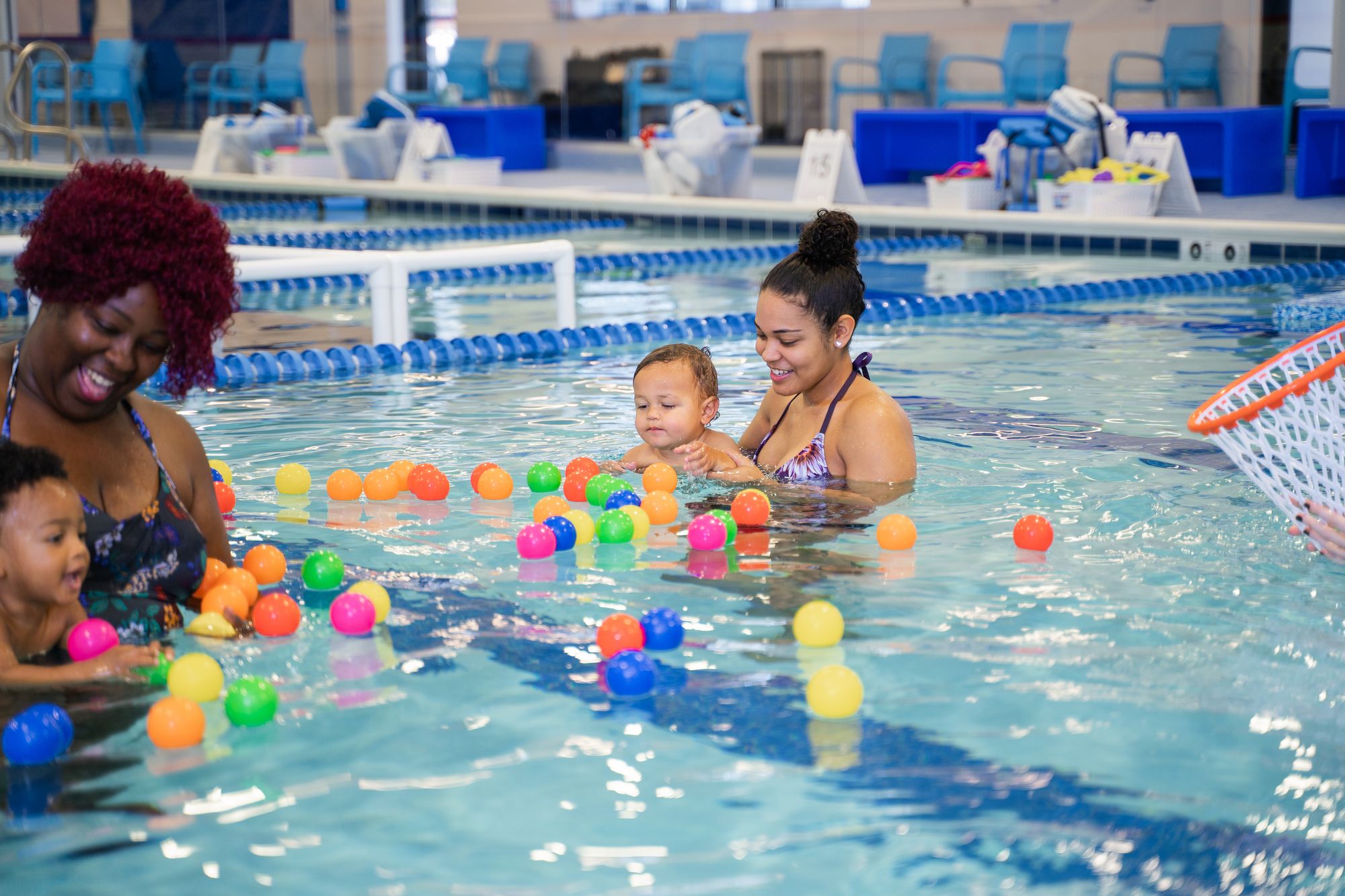 Many children closer to 9 months - 1 year or older begin to fear the water. That fear can make it harder for a child to learn to swim and can make family trips to the pool or beach vacations challenging.

While every child is different, offering children under age 1 a chance to experience the water in a positive way can go a long way to preventing a fear of water to set in. By creating a safe, warm environment for experiencing the water and having a familiar caregiver in the pool with each infant, we work to preempt fear with comfort and enjoyment.
What to expect at an infant lesson at Big Blue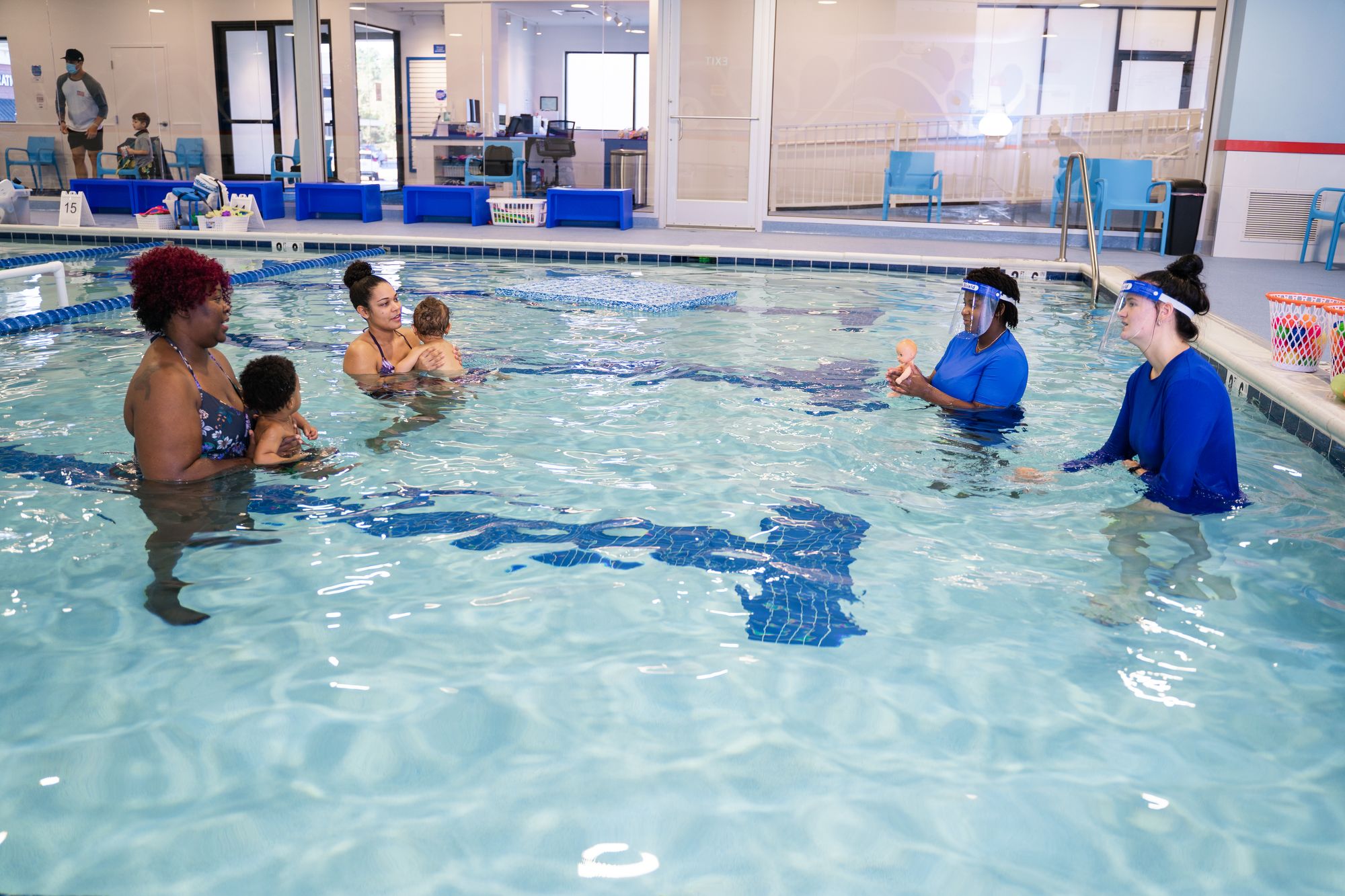 For the 3 month - 3-year-old set, our curriculum is designed to foster confidence and comfort in the water. Weekly, year-round lessons are 30 minutes and capped at 6 students, building a consistent experience in a warm, welcoming environment.

Babies learn to anticipate being submerged and gain comfort floating on their back and belly with assistance from a parent or caregiver. Eventually, children submerge their own faces. First, they blow bubbles and then learn to hold their breath for 3 seconds. Our goal is to develop swimmers, so these are all swim skill-building activities.

We also always focus on water safety. Over time, we want children to be able to propel themselves through the water to safety. Skills progress to pushing off and holding onto the wall and independently climbing out of the pool. By the end of Baby Blue, a child can swim 3' all on their own!
Of course, if your child can tackle the skills and is ready for more before age 3, they can move up and beyond Baby Blue before 3 years of age. And if your child joins us after age 3 and needs support in these skills, we're ready. Assessing the individual and meeting them where they're at ensures your child continually makes progress with us.
How is a Big Blue infant lesson different from Infant Life Safety?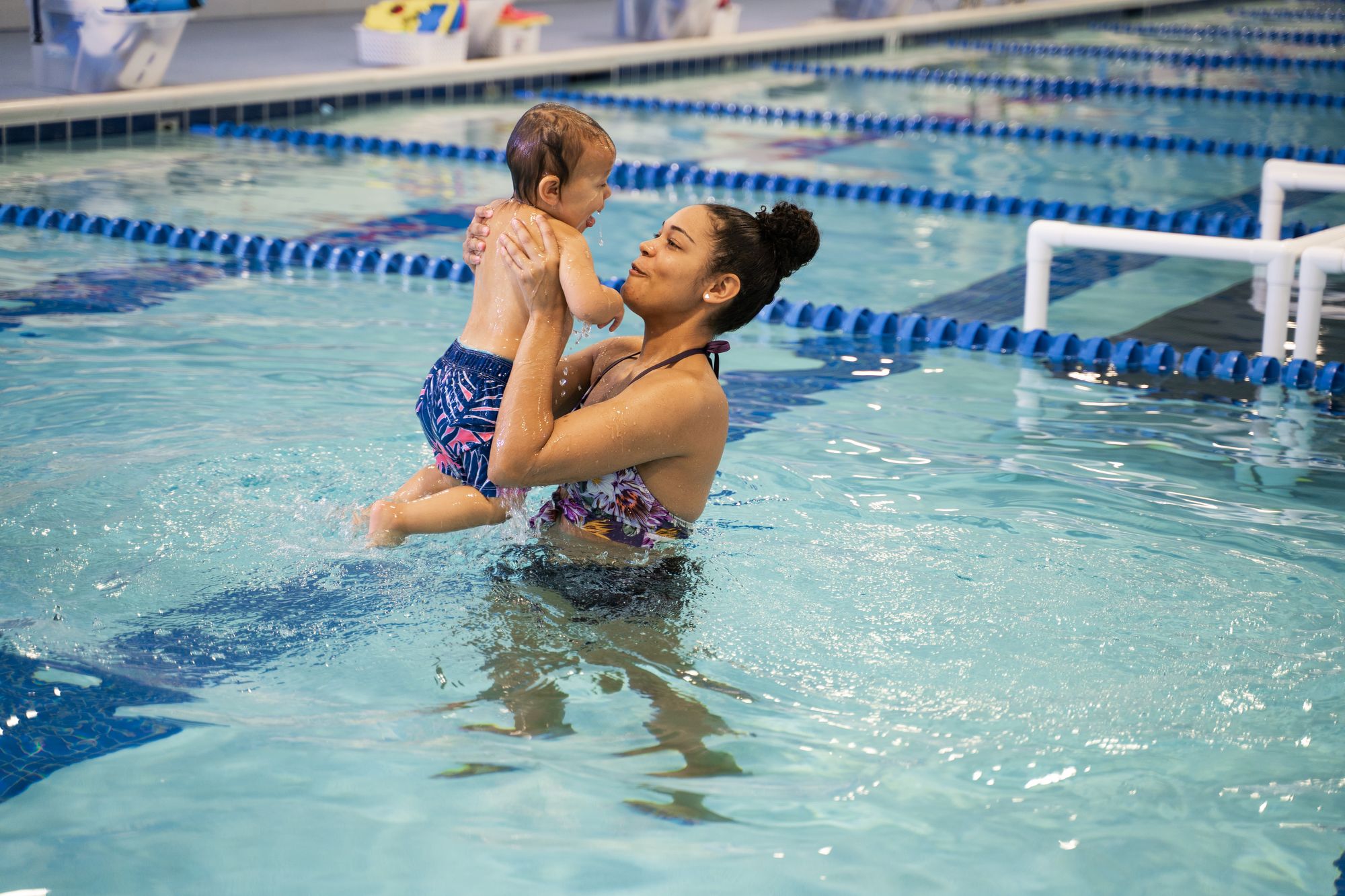 There are infant self-rescue training programs designed to prevent drowning. Generally, these programs are a 1-on-1 experience with just an infant and an instructor in the water, not a parent or caregiver. Children ages 6 month-1 year are taught to roll onto their backs. In infant-self rescue, a baby in the water will stay in the water, on their backs breathing and resting, until help can arrive. The program is often taught over 4-6 weeks with short lessons, for example, 10 minutes each day.

We believe in creating safer swimmers and working to lay the foundation for a lifetime of enjoyment in the water, too, starting at 3 months. Our Baby Blue curriculum also includes floating on the back and belly, first with assistance and then independently. There are significant differences beyond that. Our comprehensive curriculum is focused on developing strong, confident swimmers in all four strokes through continuous, year-round, small group swim lessons. For children under age 3 at Big Blue, a parent or caregiver is always in the water with the learner. While working on comfort in the water, we are also busy skill-building from the start, so a child learns to propel themselves independently through the water to safety.
Enrolling your child in swim lessons is an essential layer in water safety and a great way to help your child develop a love of swimming. This lifelong skill can bring tremendous satisfaction and enjoyment. Big Blue offers lessons starting at 3 months, with a curriculum designed especially for learners' age.
Want to get started? Sign up for a free trial or call us at 847-729-7665 with any questions.