Five Ways the Big Blue Swim School Mobile App Makes Swim Lessons Even Better...
At Big Blue, we are passionate about teaching children to swim. We're equally passionate about supporting busy families. We designed our mobile app to make it even easier to have a swimmer enrolled at Big Blue.
Every parent or caregiver who brings their child to Big Blue can use the app to manage lessons to ensure a consistent swim experience, track how much your child swims in a given level and track progress overall.
Consistency is key
It's a simple truth: Kids make the most progress learning to swim when they have consistent lessons. Regular attendance year-round at a weekly lesson ensures your child has the consistency they need to create habits, develop skills and gain confidence.
For busy families, we know juggling all the things going on with kids can be complicated. You want to be able to see instantly when your regularly scheduled weekly lessons are, and when your next lesson is scheduled. The "My Lessons" section of the app shows details on upcoming lessons and who the instructor is for each of your enrolled swimmers.
Here's how:
Open the Big Blue app on your phone or tablet.
Select "My Lessons" on the bottom left.
Select the weekly lesson you would like information on.
You'll see your child's current Big Blue level and instructor.
You can move the weekly lesson time by selecting "Move weekly lesson" and choosing from any available weekly recurring times. You can also filter by day or instructor to help you make your selection.
You can add lessons to your calendar, copy the address to send to someone, or choose to "Get directions" via Google Maps all in the Lesson View.
You can also share that you'll miss a lesson, change your weekly recurring lesson, or stop the lessons on Lesson View.
Easily make up or change lesson times
We get it; things happen! We also know you want to ensure your child consistently attends swim lessons so they keep making progress. If your child is ill, you have a scheduling conflict, or other issues arise, you can easily let Big Blue know you'll be missing a lesson and find a convenient make-up time right from the app. You can also move your weekly lesson easily if you need to make a more permanent change.
Here's how:
Open the Big Blue app on your phone or tablet.
Select "Make-Up" on the bottom menu.
You'll see the vouchers available to make up lessons next to each swimmer's name. Select "+" by their name to see the dates of past missed lessons.
Let us know your child will be missing a lesson by selecting "Miss lesson(s)" and selecting one or more upcoming lessons.
To schedule a make, select "Schedule Make-Up". You'll see details of our make-up policy and can then filter by day or instructor and choose a convenient lesson time under "Add Make-Up Lesson."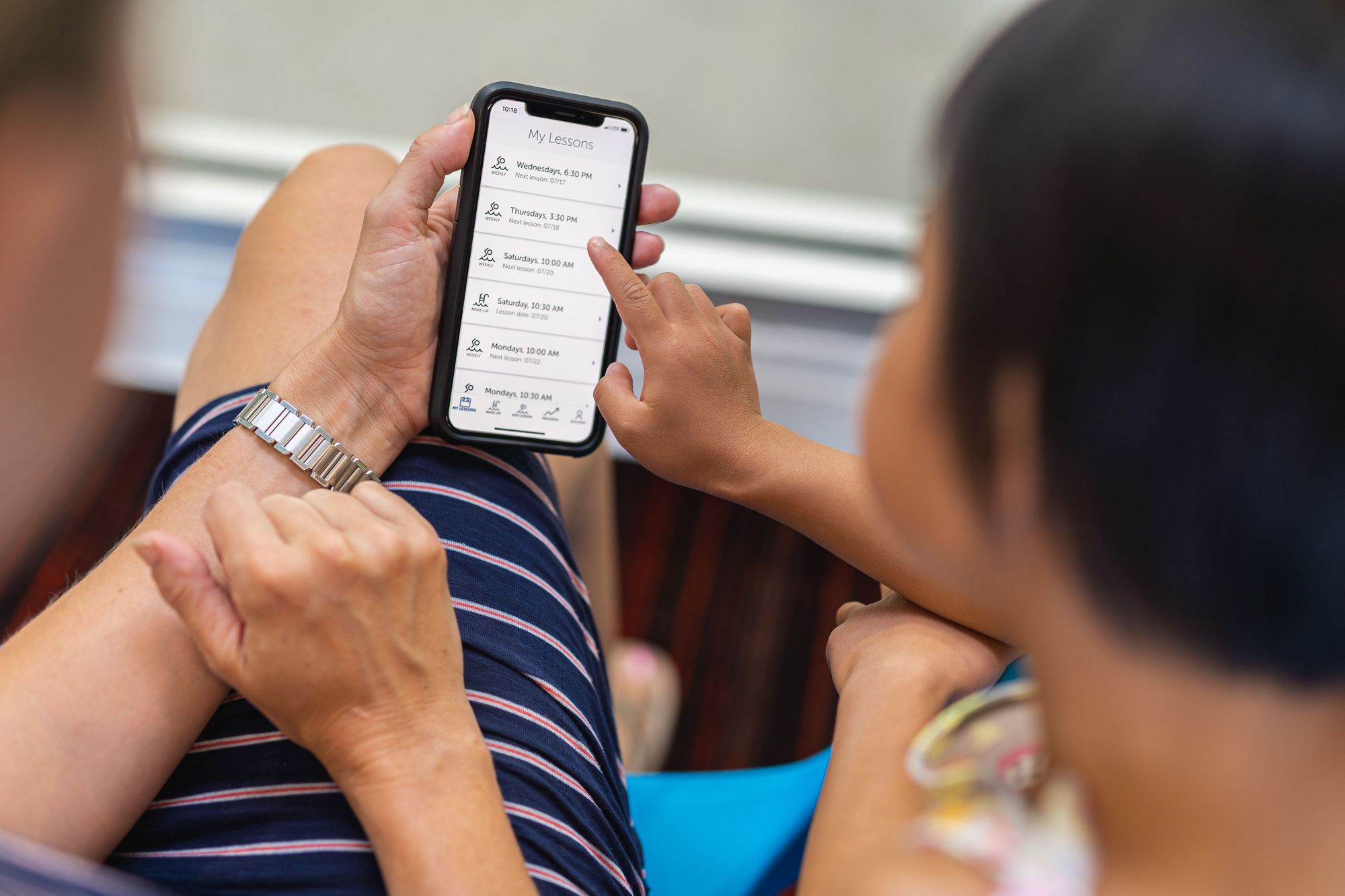 Swimming more makes a huge difference
Consistency with attendance – a weekly lesson year round – is a major indicator of swim lesson success.
At Big Blue, we understand it's not just about showing up, it's about swimming! From our carefully designed curriculum to our intentionally small class sizes to highly trained professional instructors, we've ensured students at Big Blue spend more time swimming than in other programs. That time spent swimming adds up!
In the app, you can easily see how far your child has swum in their current level.
Here's how:
Open the Big Blue app on your phone or tablet.
Select "Progress" on the bottom menu.
Under the child's swim level, swipe left to get to the screen that shows : Total Distance Swum"
Track your child's progress with SplashZones™
Seeing your child make progress in the pool is what we're all about at Big Blue. You can get an at-a-glance view of your child's current level, the skills they've mastered at that level, and what they're still working on anytime in the app.
You can view specific skills your child is progressing at, with videos of each skill. Use the convenient interface to better understand the level your child is at and encourage any practice outside of class.
You can also see the greatest distance they can swim independently. We measure these distance milestones through SplashZones™. On the app, you can quickly see the SplashZone your child has achieved and celebrate their progress as they go from first swimming 3 feet independently to increasing over time up to our most advanced level, when your child will be able to swim 1000 feet without stopping!
Here's how:
Open the Big Blue app on your phone or tablet.
Select "Progress" on the bottom menu.
You'll get a quick highlight of your child's level and the number of skills they mastered on the Progress overview.
Select a swimmer to see more details.
Under Student Progress, you'll see all the skills for your swimmer's current level. Any with a filled-in red star are skills your child has mastered! Skills still in progress have a white star to the left.
To see your child's current SplashZone or their SplashZone progress, click on the "Learn More" button under the blue water drop and you will be able to see their current SplashZone listed as "My SplashZone."
Refer a friend to try Big Blue
If you're at the park or playground and talking swim lessons with another parent, or your friend follows up to learn more about why you chose Big Blue Swim School, you can use the app to help spread the Big Blue Difference! Most locations participate in our fantastic referral program. If the referral program is available at your pool, you will be able to access the referral link directly in your app. When you refer a friend, both you and your friend will receive a credit off swim lessons when they enroll in weekly lessons.
Here's how:
Open the Big Blue app on your phone or tablet.
Click "Account" on the bottom right.
Select "Refer-a-friend" from the menu options.
If you want to email the referral directly from your device, select "Email referral link."
If you want to copy the referral link to share in a text, via social, or anywhere else, press "Copy to clipboard," and your unique link is copied and ready to share.
With features designed for busy families, we hope our mobile app makes it easy to navigate the warm and friendly waters of swim lessons at Big Blue Swim School.