Swim Lessons in Winter are Cozy as Ever
The days are getting shorter, the weather is growing colder, and the holidays are nearly upon us, which can only mean that winter is surely coming. For some parents, winter might also mean that their child's favorite outdoor activity ended for the season, leaving them with extra energy as everyone is stuck inside. That's why at Big Blue Swim School, we designed our swim lesson program to cater to families year-round, with plenty of cozy amenities to help your child overcome the winter blues and learn skills that will last them a lifetime!
Warm, Ultra-Clean Pool Water
After a long, cold day, who wouldn't want to go for a dip in relaxing, warm water? While our pools may not be quite as heated as a hot tub, we do keep our water at 90-degrees, which is perfect for optimal learning and comfort – even when it's colder outside! Your child will remain comfortable throughout their entire lesson without ever feeling too hot or too cold so they can focus on having fun and improving their skills.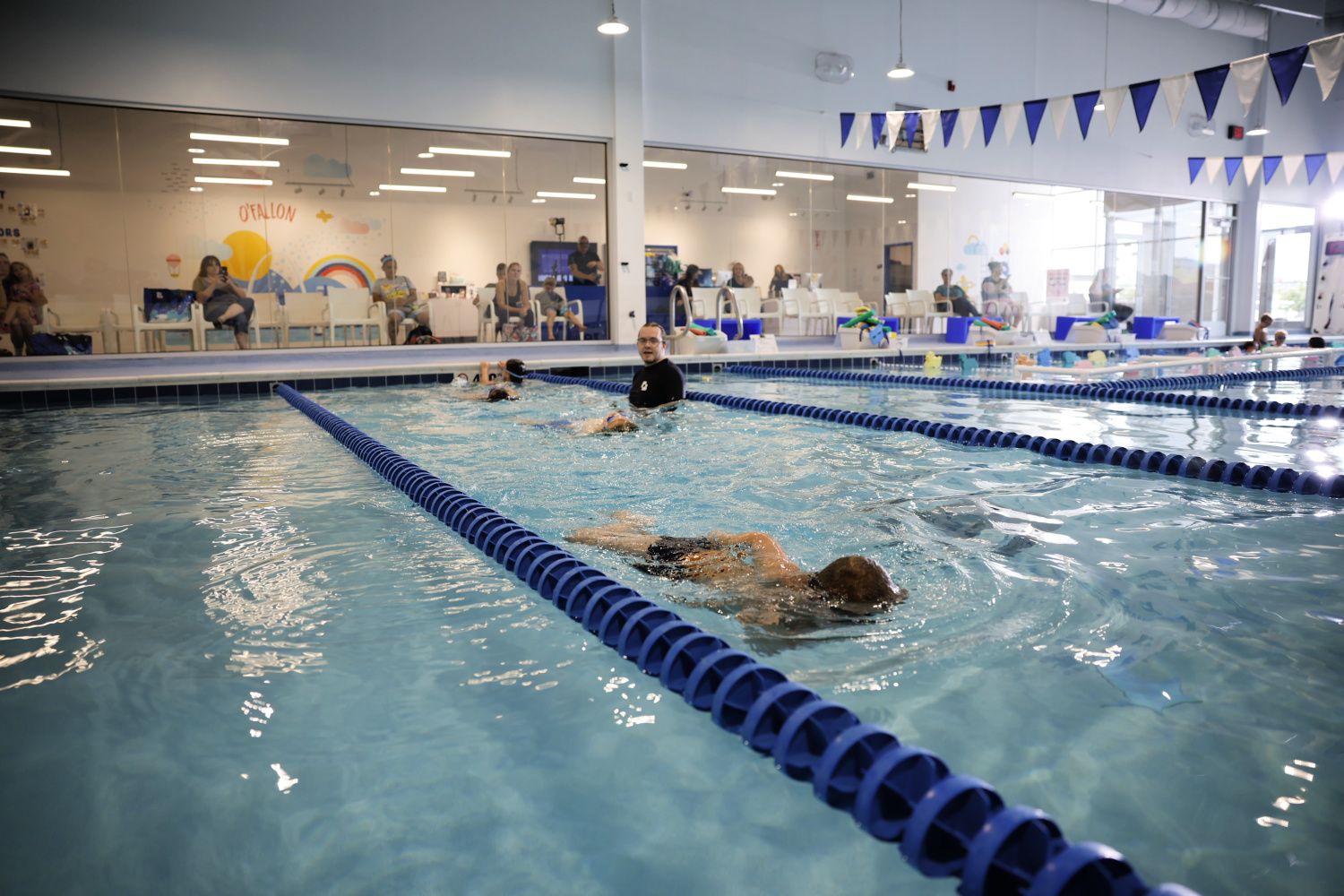 You won't need to worry about your child's health at Big Blue, either, thanks to our award-winning, LEED certified water filtration system designed to remove the tiniest unwanted particles. We even have advanced UV light sanitation to eliminate any remaining bacteria or viruses. After all, your child's health and safety are our #1 concern!
Hair Drying Stations
If you're worried about your child being too cold after their lesson, rest assured that is one thing that won't happen at Big Blue! Our special hair drying stations ensure no child catches a chill post-lesson. Plus, they're super fun for kids of all ages to practice drying their hair while you are right there to help them as they warm back up before heading home!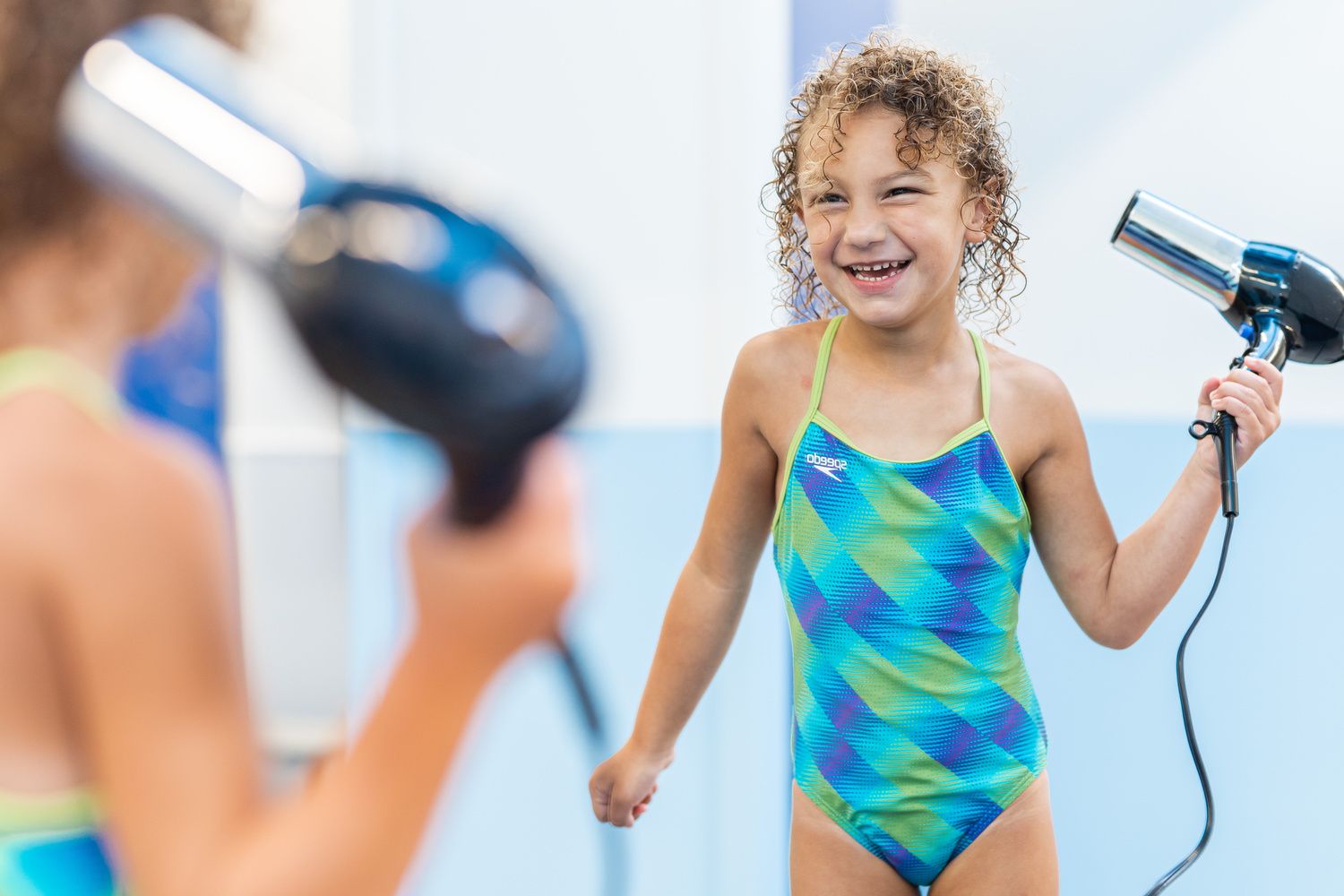 Plenty of Spacious Changing Rooms
We understand that nothing is worse than standing in a sopping wet swimsuit, waiting for an available changing room. With that issue in mind, we added plenty of individual changing rooms, preventing families from ever getting stuck in their swimsuits and towels. At Big Blue, your child can head straight from the pool to a comfortable changing room!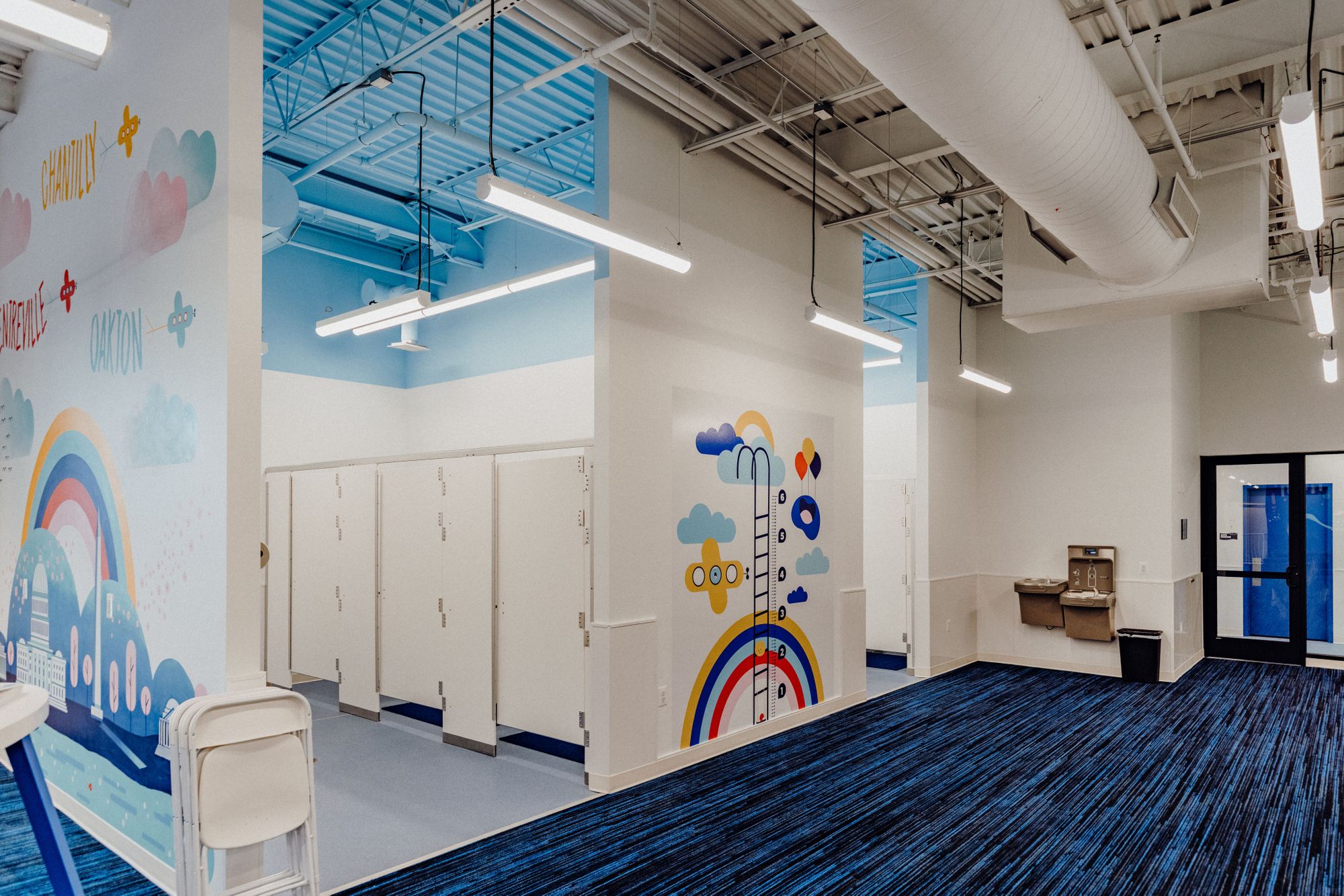 We know that attending swim lessons often involves multiple bags for items, like towels, water bottles, a change of clothes, etc., especially if you bring more than one child, too. Fortunately, our changing rooms are designed with abundant space, so your whole family can spread out and feel organized before and after class.
Comfortable WIFI Enabled Viewing Area
Who said swim lessons are only for the kids? Kick, back, relax, or maybe even get some work done in our free WIFI-equipped lobby area. Our see-through wall, separating the lobby from the pool, allows you to watch your child unlock some BIG moments in the water as well. As soon as your child finishes their lesson, you can celebrate their progress and start your post-swim routine together.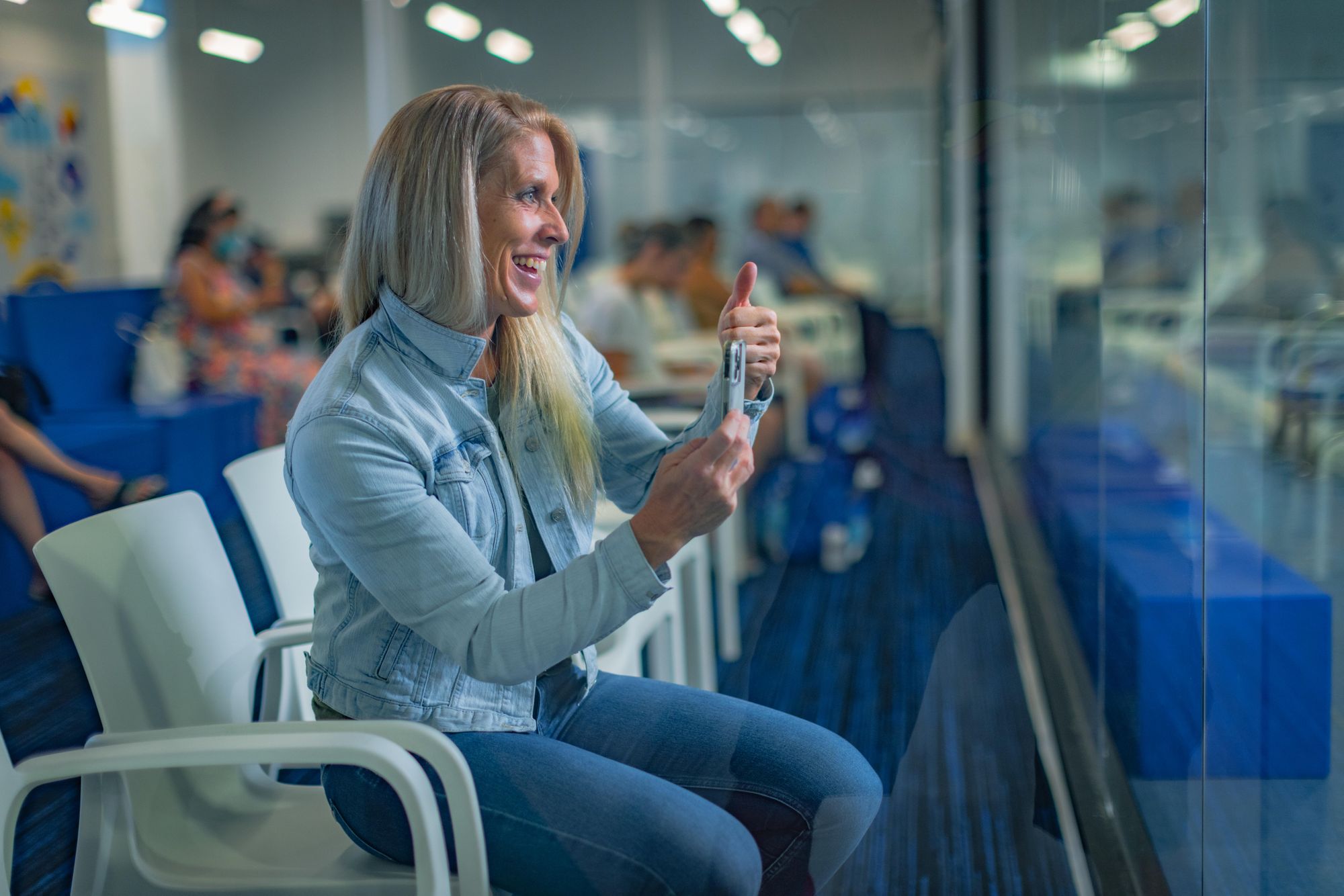 Friendly Staff
We cannot wait for you to meet our passionate and dedicated team of instructors. They care about your child just as much as you do, and they LOVE teaching! With ample experience and countless smiles, our instructors are key in helping your child reach their swim goals, achieve progress, and have fun doing it. We all understand that the winter months can be a hectic, and even draining time of year for families, which is why our team remains committed to making swim lessons the best and most positive experience possible!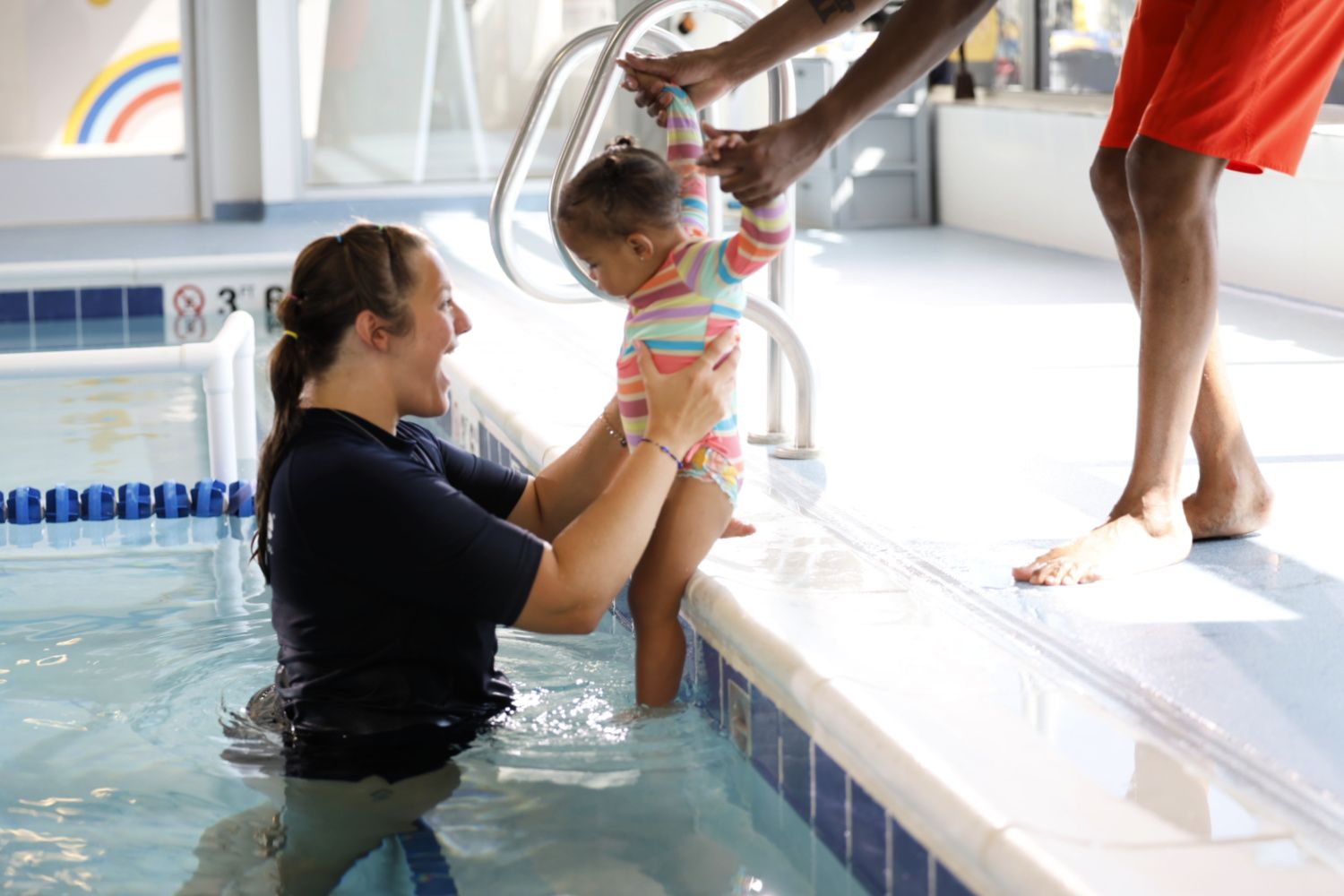 With so many Big Blue features to make swim lessons a cozy and fun learning opportunity for your child, there's no reason not to get started! If you are planning future family vacations to a beach, water park, or lake, enrolling in swim lessons now helps to ensure your whole family is safe and prepared. Not to mention, swimming is truly a year-round activity that many kids enjoy as they stay healthy, build confidence, and learn something new. We hope to see your family at a Big Blue location near you!