Three Benefits of Small Group Lessons
Everything we do is by design at Big Blue. We want to provide families the best learning environment, learning experience, and value.
We believe small group lessons are the best way for kids to learn to swim. They are more affordable than private lessons, but the benefits don't stop there. Kids get individualized attention, a chance to learn by demonstration and develop muscle memory without fatigue setting in.
Small group learning is prevalent in classrooms because science backs up the power of small groups to promote well-being and help children stay engaged and learn faster! Even top graduate programs use small groups to great success. We've taken the best of small group learning and layered it into our Big Blue curriculum, keeping our classes within the recommended number of participants based on age.
---
Kids Like Being With Other Kids
Swimming is truly a social activity, from celebrating each other's victories to jokes with your instructor at Big Blue to family beach vacations and pool birthday parties down the line.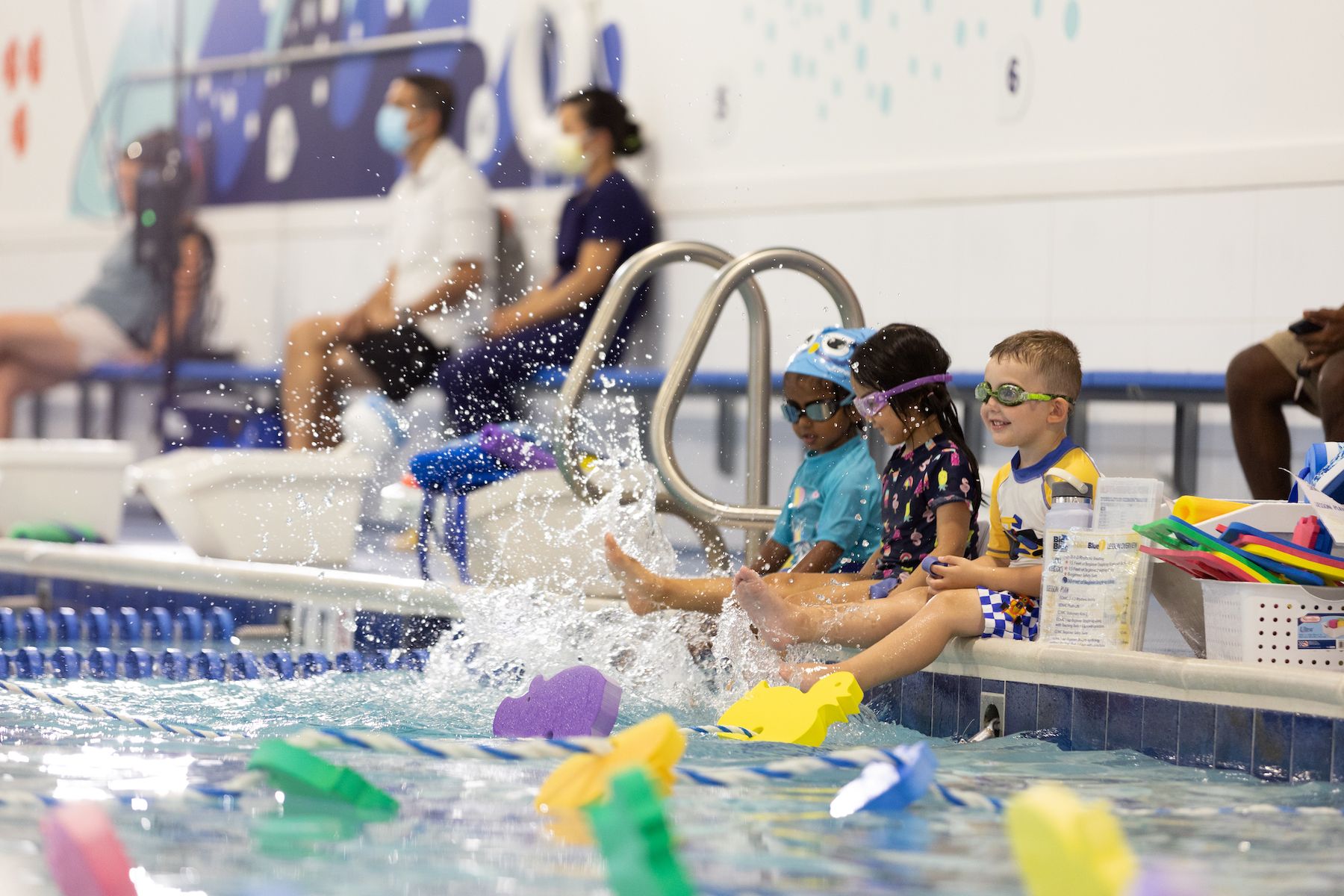 Small group lessons ensure a social aspect to learning to swim without the overwhelm a larger group can bring. Being around other swimmers in their age range gives young people peer interaction and a chance to have fun. They also get reassurance if they're hesitant about trying a new skill. Seeing someone their age submerge their face, blow bubbles or test out a new stroke can reinforce their desire to learn. With a few friends in the pool, a shier or more nervous child can feel more comfortable since they aren't the sole focus of attention for the instructor.
Kids Get Three Essential Kinds of Feedback

Learners benefit from all kinds of feedback and learning modalities. While swim lessons don't include reading to learn and written feedback, there are opportunities for three other essential types of feedback: auditory, visual and kinesthetic.

In a private lesson, young swimmers get auditory and kinesthetic feedback – an instructor can tell a child what they need to do and help them with the form and motions. Visual feedback, gained by watching someone perform a task or skill, is more challenging since the instructor can't show the skill and explain it simultaneously as easily.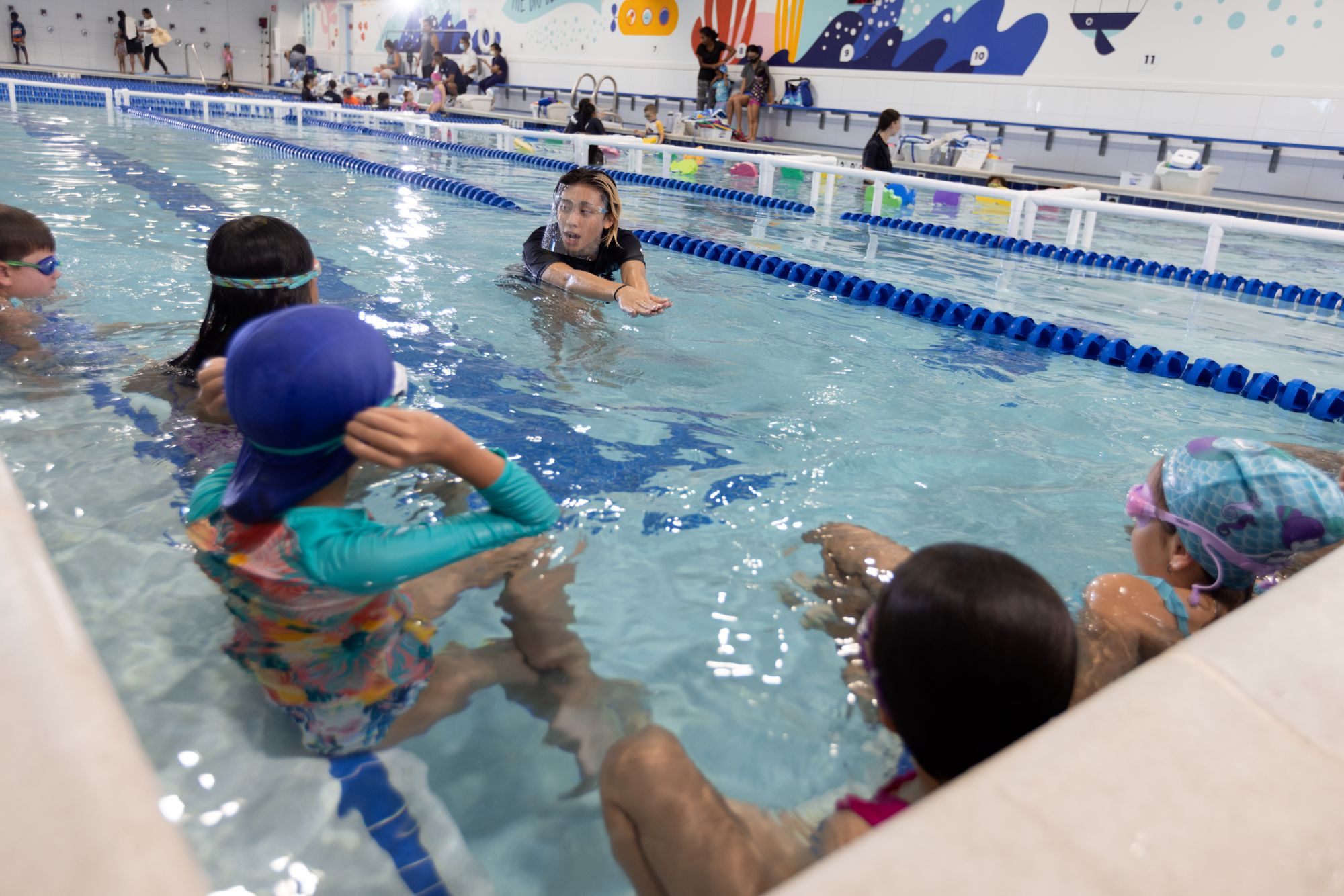 Large group lessons can provide visual feedback, where a child can see another child demonstrate a skill. When a swim lesson group is too big, a child may not be able to hear verbal feedback. They may not have as much opportunity to have the instructor work one-on-one with them.

Only small group sessions, like the classes we run at Big Blue Swim School, allow for all three kinds of feedback in every lesson. Each swimmer gets the chance to hear from an instructor, have an instructor work with them on specific movements and techniques and learn by watching peer swimmers.
Enough – But Not Too Many – Turns
Our small group ratio is set up for child development and is based on the science of the body. We know the optimal number of turns to build muscle memory but not fatigue a child so much that their form breaks down. Learners get the practice they need in our small group lessons but also have time to recover – and watch their peers!

Our small group swimmer/instructor ratios for our most common levels are 3-to-1 in Bright Blue and 4-to-1 in Bold Blue, with slightly larger class sizes for our Baby Blue and most advanced Big Blue levels. The work older and more experienced swimmers do takes more effort and endurance and a longer recovery is beneficial. We always want enough time to practice without losing form due to fatigue.