Some of the most frequent questions we get are about what to pack for swim lessons. We get it! It can be overwhelming to a first-time swim lesson parent to think about the gear that your child might need and what you might forget.

We've rounded up our top recommendations. While there may be a few variations based on age – yes, we mean swim diapers for the youngest set! – we took all those common questions and paired it with advice from veteran parents on what they bring.

Swim Bag
A dedicated swim bag ensures everything you need for your weekly lesson is in one convenient spot. Many of our families like to use a wet/dry bag with a compartment ideal for wet suits. If your bag isn't waterproof, grab a plastic bag from our changing area to hold wet swim suits and towels after the lesson.

Swimsuits
Choose a suit that fits snug and properly. It shouldn't slide down on any part of your child's body. To maximize use in all swim scenarios, we recommend a suit in bright and contrasting colors for increased safety in all swimming environments. Neon colors – orange, yellow and lime green – provided the most visibility in open water according to tests by ALIVE Solutions Inc.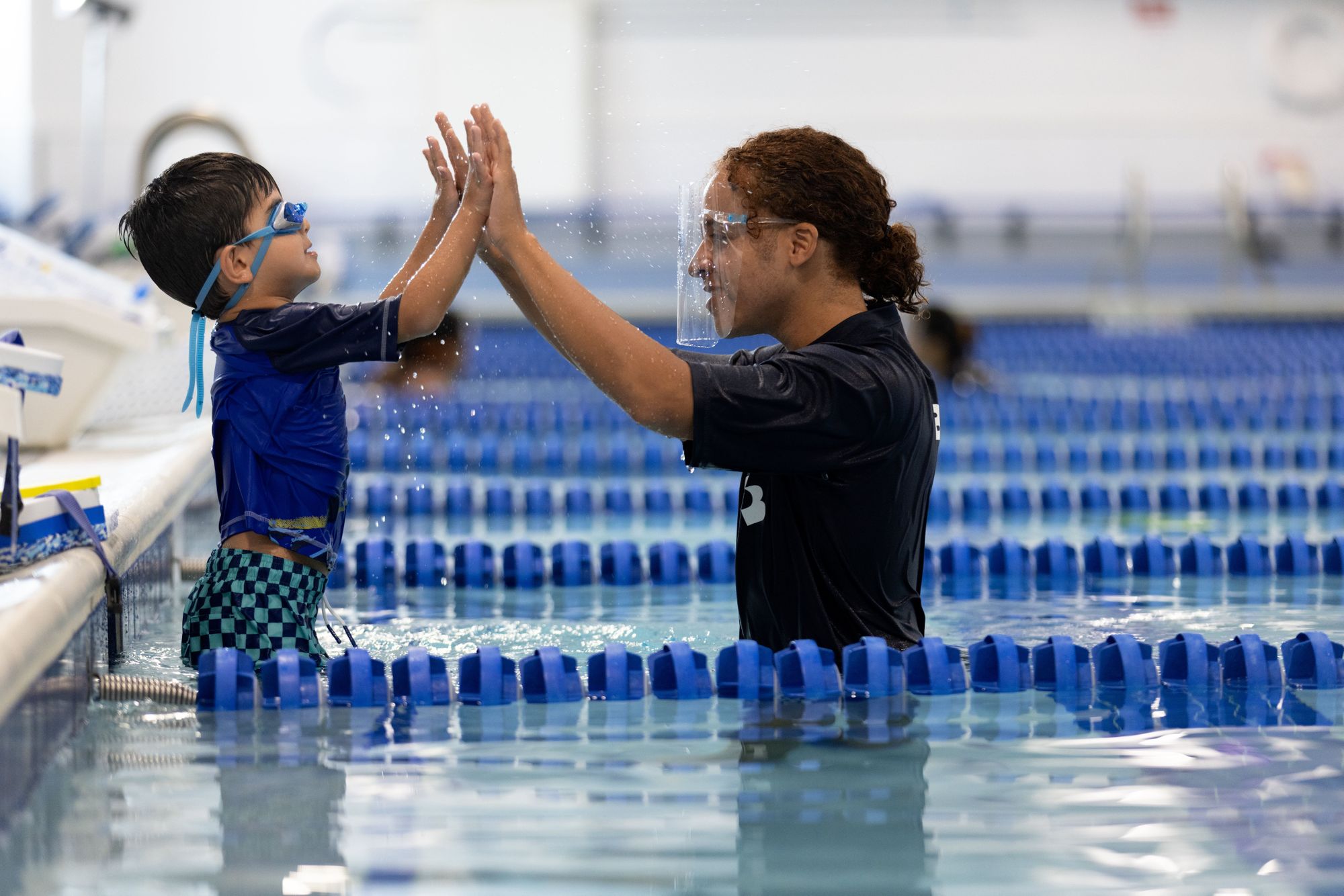 Swim diapers
An absolute mandatory! Swim diapers are required for any child who is not yet potty trained. A pool has to close for as much as 24 hours if fecal matter spills into a pool. To prevent that, we require a snug fitting non-disposable swim diaper and/or rubber pants over a swim diaper every time a non-potty trained child is in the pool. Please note the double protection! Children will not be allowed in the pool without both. You can view our full swim diaper policy here. If you forget swim diapers, we have them for sale at the pro-shop. For post-swim, be sure to pack normal diapers and wipes.
Goggles
Our youngest swimmers may not be ready for goggles, and some elementary age swimmers can't imagine getting in the pool without them! Goggles can encourage good technique, and we recommend them for kids ages 3+ when they reach our Bright Blue level. One tip is to ensure good fit, with goggles securely sealing around the swimmer's eyes. If the goggles leave marks, they're too tight.

Swim Cap
A swim cap can be especially useful for swimmers with longer hair to keep hair out of eyes and prevent tangles and post-swim brushing battles. Swim caps can also help keep goggles on. At Big Blue, swim caps are recommended for children whose hair covers their ears. If your child doesn't want to wear a swim cap, a hair band will do!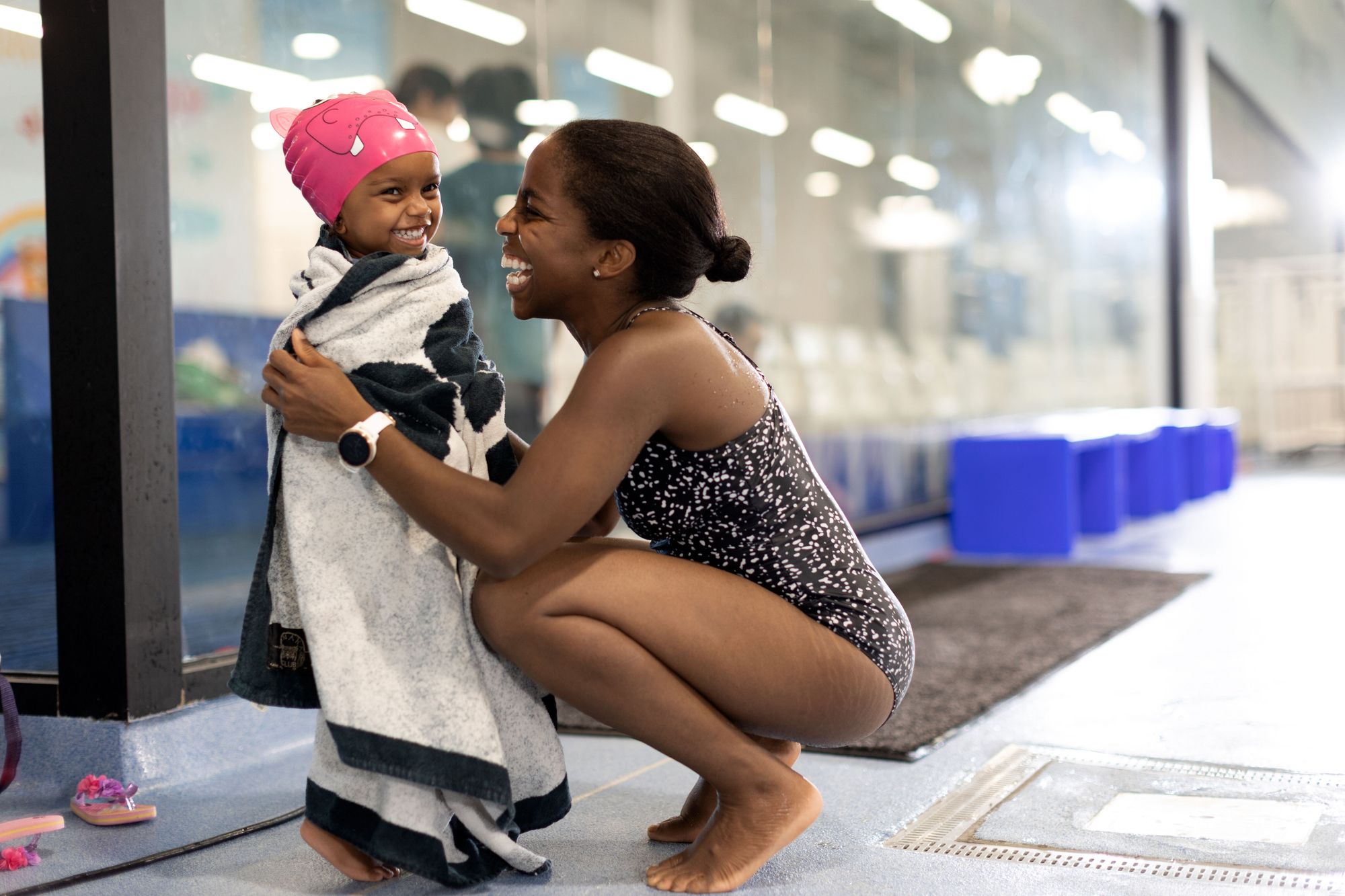 Towel and a Change of Clothes
Drying off with a larger beach size towel or hooded towel can provide some extra cozy if there's room in your bag. Each facility has individual changing rooms so your child can change in privacy before or after their lessons. If they come in a suit, be sure to pack a change of clothes for post-pool.

Post-Swim Snack and Water Bottle
While not an actual essential, most kids would agree that a snack is always a good idea. It can be especially useful after Big Blue swim lessons. Kids swim more during their lessons with us and will work up that appetite!

Shower Stuff
Every Big Blue has showers on the pool decks with soap dispensers. Prefer your own products? You can pack some travel size shampoos and body washes. A small container of detangler for hair and skin lotion are also great adds. Wet brushes, designed to be used on wet hair are popular for easier brushing.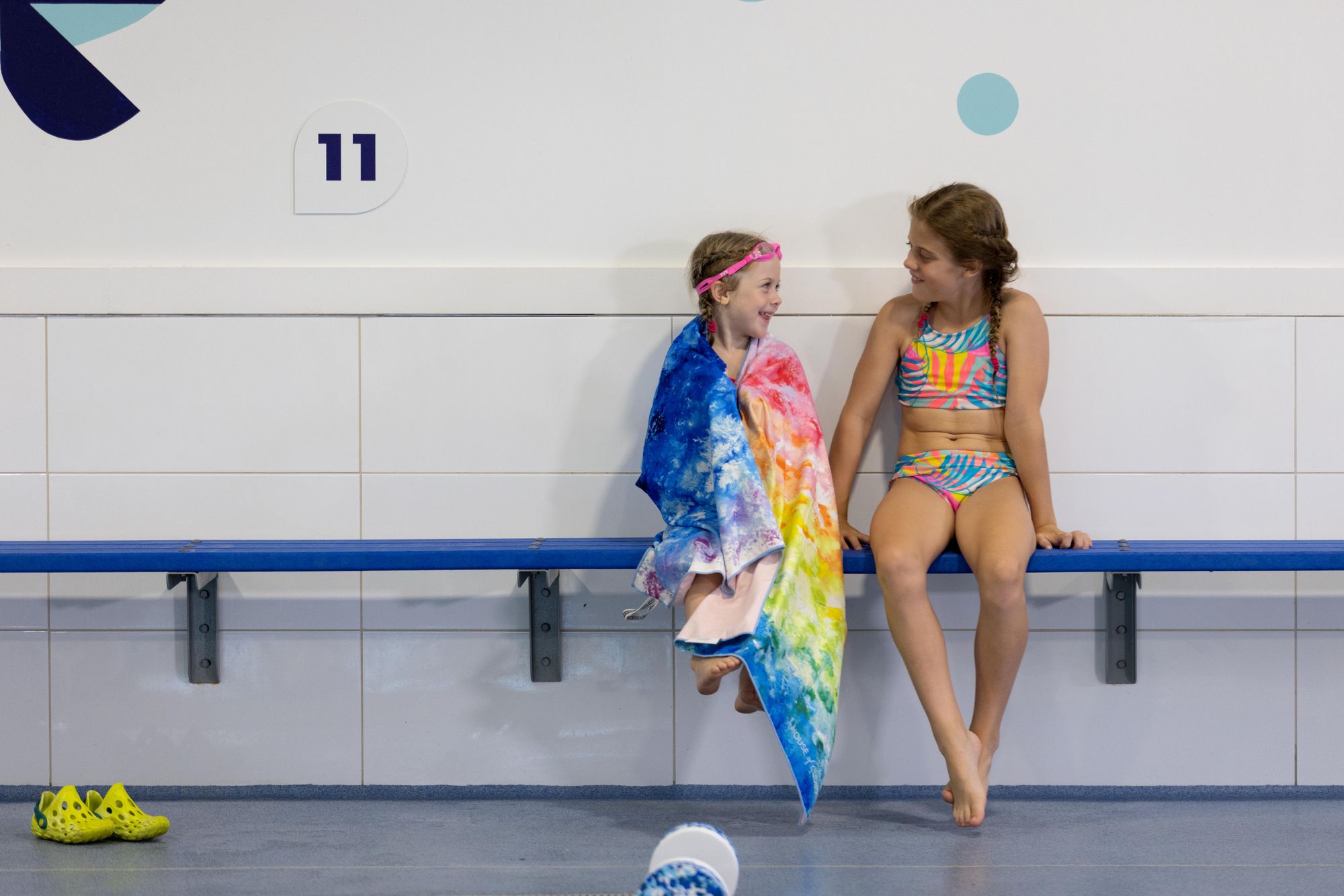 Water-Friendly Footwear
Your child won't need flip flops or water shoes since all our facilities include fall-proof, anti-microbial carpet. But, that doesn't mean they won't want cute swim lesson shoes.
Ear and Nose Plugs
We work with swimmers of all ages to learn to totally submerge their whole head in the water. Our techniques work well for the vast majority of swimmers. You know your kid best. If they have health concerns or sensory sensitivities that make swim lessons more successful with nose and ear plugs, please bring them! We want our swimmers to feel confident and comfortable.  
We hope you found these suggestions useful. Swimsuits, and swim diapers, are essential but sometimes the decision on other items comes down to swimmer preference and what makes getting out your door easier.

One last tip! Remember, every Big Blue Swim School includes a comfortable, wifi-equipped viewing lounge for parents and caregivers. You may want to pack a book or tablet, but that's just for you!