The Big Blue Mobile App is LIVE!
We recently launched the Big Blue mobile app to bring more convenience to how you schedule lessons and track your swimmer's progress. You can now access all of the benefits and scheduling features of the Parent Portal in one easy-to-use app. Read on to learn more about our mobile app features and how they can help you get the most out of your swim lessons at Big Blue!
Download the Big Blue mobile app on your device's app store to get started!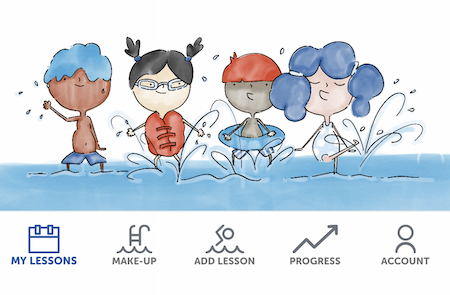 View Essential Swim Lesson Details under "My Lessons"
In the "My Lessons" section, you can view all of the details on your existing scheduled lessons, including the date and time of your upcoming swim lesson and your swimmer's instructor. This is also where you can access our Self Check-in feature, where you can check in for swim lessons and answer the COVID-19 questionnaire in just a few simple steps, up to an hour before swim lessons begin. Finally, you can change your swim lesson date and time or report an upcoming absence as needed.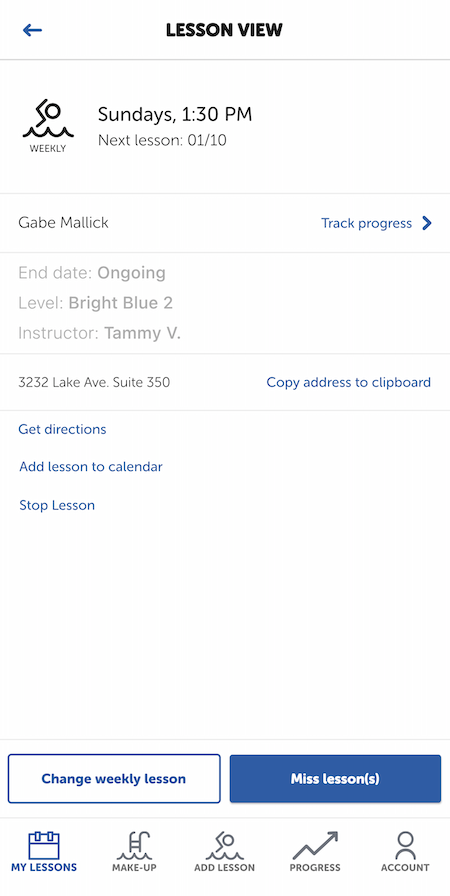 Schedule a Make-Up Swim Lesson under "Make-Up"
Our Make-Up Lesson Policy is the most flexible of any swim program. By offering every swimmer 15 free make-up lesson vouchers per year, we help make make swim lessons fit seamlessly into any busy schedule. Go to the "Make-Up" section of the app to report an upcoming absence or schedule a make-up lesson.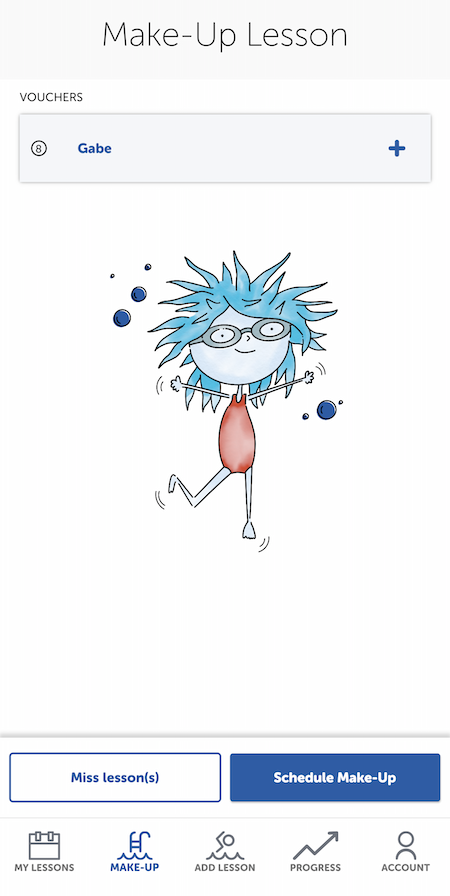 Add New Swim Lessons to Your Schedule under "Add Lesson"
You can add new weekly swim lessons or find when your swimmer's favorite instructor is available for a drop-in lesson in the "Add Lesson" section. New customers can schedule a free trial swim lesson to experience the Big Blue Difference before committing to weekly swim lessons.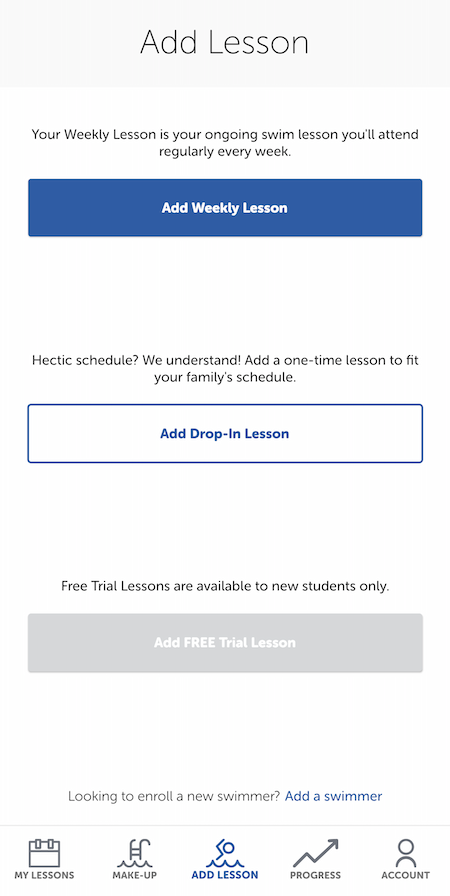 Stay Informed on Your Swimmer's Abilities under "Progress"
You can view the skill requirements and your swimmer's progress towards completion of their current level in the "Progress" section. In every swim lesson, our team of professional swim instructors personalize lessons to ensure kids progress with each session and are constantly building skills and confidence in the water as they learn to swim.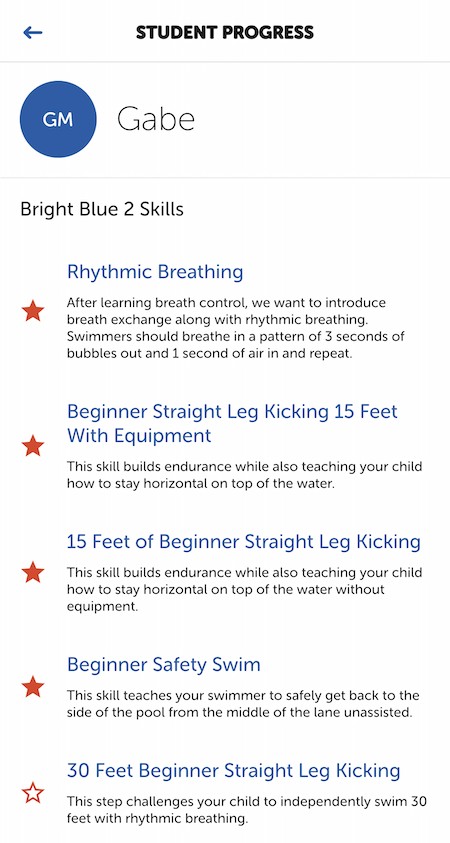 Manage Your Information and Preferences under "Account"
This last section includes critical account information, like your preferred payment method, and gives an overview of our Policies. This is also where you would add a new swimmer to your account once your youngest is ready to begin swim lessons.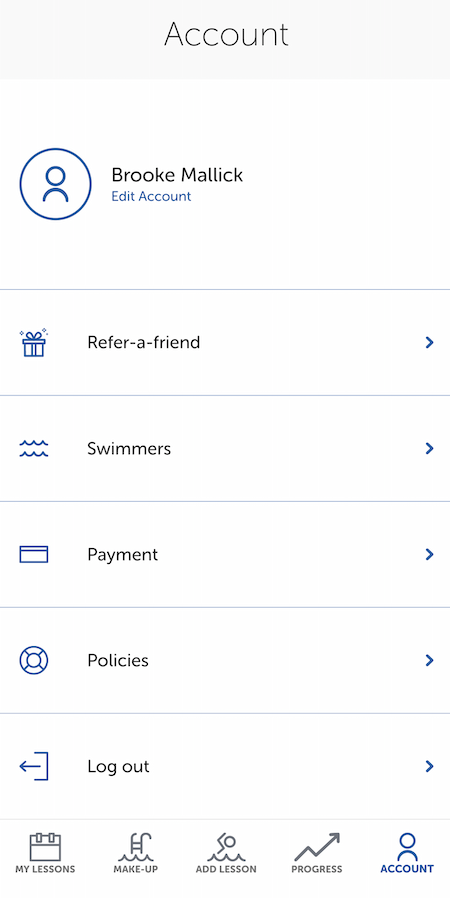 Refer a Friend to Big Blue!
Our favorite part of the "Account" section is the "Refer-a-friend" feature, because your referrals are a BIG deal to us. To show you just how much we appreciate you helping us spread the word, we give you $75 in swim lesson credit for every new family you refer that signs up for weekly swim lessons at Big Blue. That's not all! New families also receive a $25 swim lesson credit when they sign up for weekly lessons using your unique referral link. Refer a friend to weekly swim lessons through the mobile app today!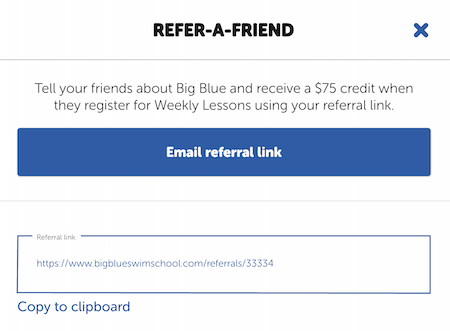 We will continue to add features to the app over time, so start familiarizing yourself today and share feedback on what you would like to see in the future!