Guide To Water Safety For Kids
A parent's number one concern is keeping their child safe. Drowning is a leading cause of death among kids ages 1 through 4. The best way to lower the risk of drowning among kids is to teach water safety at a young age.
Big Blue Swim School offers swimming lessons for kids between 3 months and 12 years. Our professional instructors, unrivaled curriculum, and laser-focus on progress help result in safer swimming for kids and reduced worry for parents. This comprehensive guide to water safety for kids introduces the most important tips for kids of all ages.
The Importance of Water Safety for Kids
Roughly 10 drowning deaths take place in the United States every day. About 20% of these deaths occur in kids ages 14 and younger. Eight kids receive emergency care for nonfatal water submersion emergencies for every one child who drowns. These nonfatal injuries can result in brain damage, long-term memory issues and learning disabilities. Teaching kids water safety and continuously discussing water safety methods can help prevent drowning and other water-related accidents.
Drowning is typically silent and is not highly visible. A struggling swimmer often cannot yell because their respiratory system is trying to breathe. The swimmer's arms are generally underwater, pushing the body toward the surface. It can be difficult for parents and other adults to recognize a drowning child. That's why a child's understanding of water safety is so important.
Preparing for the Water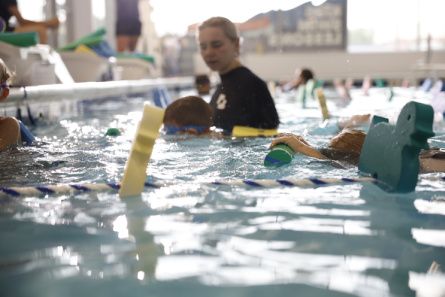 Water safety for kids begins at home, long before heading to a beach or pool. Every child should understand the safety equipment needed and what to do during an emergency. Parents and kids must know the safety measures in place where they plan to swim — such as where to locate a lifeguard or supervisor, potential water hazards, the depth of the pool, and more.
Drowning prevention takes a complete family effort. Swim lessons from qualified professionals at Big Blue Swim School prepare kids with skills and water safety tips they need for playing in the pool, ocean and other bodies of water.
Pool Safety for Kids
Pools are ideal places to cool down on hot summer days. Some families have a pool in their backyard, and others travel to public pools, hotels and water parks. Consider the following pool safety tips.
Create Barriers
Every pool should be equipped with the proper barriers to prevent drowning. These barriers must be secure at all times to stop kids from entering. A self-locking gate and working door alarm can prevent kids from entering and alert parents if the pool gate opens. Parents must keep all tools away from the pool or other bodies of water when not in use, as these can attract kids toward the water.
Swim Only in Designated Areas
Kids must understand designated swimming areas before heading to the pool. They need to know the varying depths and where they are not allowed to swim — whether due to pool rules or their swimming limits. Kids should only swim where and when a lifeguard is on duty.
Wear the Correct Safety Gear
Kids unable to swim independently must wear a lifejacket in or around the pool. This lifejacket must be approved by the U.S. Coast Guard and appropriate for the child's size and weight. The lifejacket should fit snug when tightened.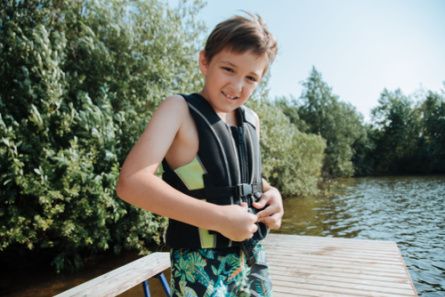 Swim With Others
Kids should never swim alone. Kids should swim with a buddy, whether that buddy is a child or an adult.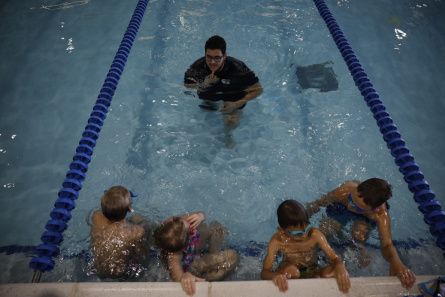 Actively Supervise
Parents must actively supervise kids when they are in and around the water. Lifeguards are constantly scanning the pool, but their eyes cannot be everywhere at once. A designated parent or water watcher, must be watching kids in the water and should always be within an arm's reach of small kids.  The designated water watcher should witch every 15 to 30 minutes, so this person doesn't become fatigued. The water watcher must keep his or her eyes on the kids in the water without distraction.
Locate and Use Rescue Equipment
Parents, teens, and ids must know where rescue equipment is around the pool and how to use it. It's important to teach kids how to throw rescue equipment to distressed swimmers, rather than jumping in to help.
Learn Basic Life-Saving Skills
A study of 289 rescue reports showed a 91% survival rate for drowning victims who received CPR. CPR is a life-saving skill, and experts recommend teaching kids cardiac compression around 12. Kids and adults who know how to perform CPR can save lives at the pool, the lake, the beach and everywhere kids are around water.
Teach Kids to Swim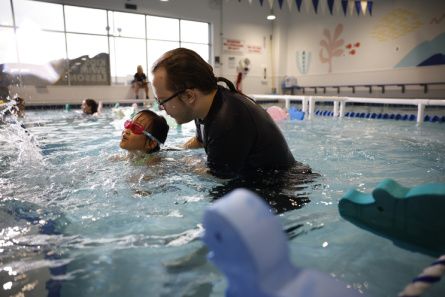 The number one way to prevent drowning and other accidents in the pool is to teach your kids to swim. Big Blue Swim School offers locations in many states, and instructors begin teaching kids as young as 3 months old. The skills learned in a qualified swim school create confident swimmers who are safer in and around water.
Ocean and Lake Water Safety Tips
Many of the same swimming safety precautions applied at the pool are also functional in the ocean, lake, river and other bodies of water. However, safety experts suggest implementing several additional safety measures.
Safety While Boating
Kids of all ages should wear a lifejacket while boating. The lifejacket must be Coast Guard approved and fit properly.
Be Aware of Boundaries
Many natural bodies of water have designated swimming areas. Parents need to familiarize kids with the boundaries and potential hidden obstacles (such as rocks or sunken structures) under the water's surface. Instruct kids to swim in front of lifeguard stands whenever possible. Parents and lifeguards have the same goal of protecting kids, so kids must always listen to lifeguard rules and instructions.
Understanding Rip Currents
Rip currents are narrow, powerful channels of moving water in the ocean and other large bodies of water such as the Great Lakes. Rip currents can move faster than an Olympic swimmer and put people at risk of drowning due to fatigue.
Kids must know the dangers of rip currents and how to escape them. Understanding the importance of swimming parallel to the shore to escape the rip currents, then swimming at an angle back to shore, can help with escaping.
Teaching Water Safety to Kids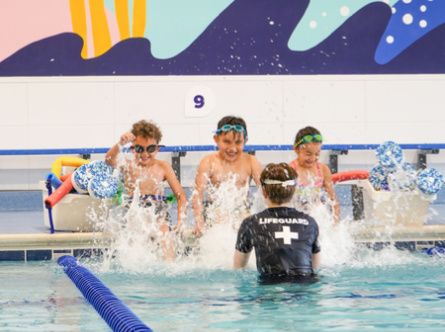 Parents should communicate with kids often about water safety precautions. However, qualifiedprofessionals are most suited to teach water safety. It is impossible to help ensure a child will always be safe in and around water. That said, proper instruction can make kids of all ages "water safer."
Did you know that formal swim lessons reduce a child's chance of drowning by 88%? Enrolling your kids in year-round swim lessons performed by experts in a professional setting is the best way to prepare a child for being around water.