Health and Safety
The health and safety of our swimmers, families, and Swim Associates are always our top priority at Big Blue. The plan below reflects what actions we're taking to protect our Big Blue families and staff. We are also continuously monitoring CDC guidelines, plus state and local regulations in each market, so please note details may vary as required by location.
Maintaining a Clean Environment for Our Families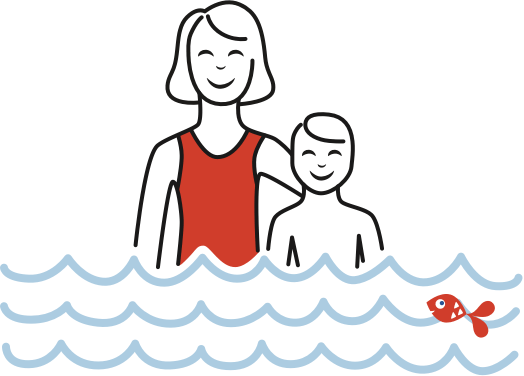 Enhanced Cleaning Protocols
We disinfect all high touch surfaces every 30-minutes with a product that meets EPA criteria for use against SARS-CoV-2, the virus that causes COVID-19. All high touch surfaces are also deep cleaned at the end of each evening with a botanical-based disinfectant.

Updates to our Space
We've made updates to our facilities to implement social distancing and maintain good hygiene practices. Touchless hand sanitizer stations have been installed throughout each facility and we have temporarily removed hard to clean surfaces.

Ultra-Clean Water
Per the CDC, there is no evidence that the virus that causes COVID-19 can be spread to people through the water in pools. At Big Blue, we keep our water ultra-clean with a state of the art pool filtration system plus a UV light sanitizer to go above and beyond standard pool operation protocol.
Caring for One Another
Every Big Moment in the pool starts with the magical combination of your swimmer's hard work plus the instruction of our dedicated Swim Associates. To ensure we're providing a healthy, safe environment for everyone in and out of the pool, we are following local and CDC guidelines and taking the following precautions:
Wellness Checks Prior to Entry
All staff will have their temperatures checked at the beginning of each shift before entering the facility. We ask that all families check-in via the Parent Portal up to an hour before arrival and complete a temperature check prior to entry.
Personal Protective Equipment
All staff will be provided with suitable personal protective equipment for their role, including a face mask and gloves for dry shifts and face shields for Swim Associates in the water. Face masks that cover the mouth and nose are strongly encouraged in all of our schools, and will be required while on site at Big Blue where recommended by state and local health authorities. Children do not wear masks while in the pool area. We require that caregivers participating in Baby Blue level classes wear a face covering during lessons.
Supportive Policies for Illness and Absence
Swim Associates have access to enhanced paid sick leave that allows them maximum flexibility in the event they feel ill, ensuring they don't feel pressured to choose between their health and their work.
If you or someone in your home is feeling unwell, we ask that you stay home and take advantage of our flexible makeup lesson policy. Were someone in your household to be diagnosed with COVID-19 after being in a Big Blue facility, we ask that you call your local pool as soon as possible to let us know
Keeping Big Blue Families Safe Before, During, and After Swim Lessons
Before
If your child or someone else at home is not feeling well, we ask that you please stay home and utilize our makeup lesson policy.
Please arrive to Big Blue with all swimmers changed into their suits and ready to head straight to the pool.
We recommend you complete our online self check-in and wellness screening via the Parent Portal up to an hour prior to your lesson. Your family will still be required to also complete a temperature check at the front door prior to entering the facility. Check in will begin at the front door 5 minutes before the start of your scheduled lesson.
We may limit the number of adults or caregivers accompanying children to the school based on local capacity regulations. Where capacity restrictions are in place, we will limit entrance to one caregiver per three kids to manage numbers within our facility.
During
Baby Blue and Bright Blue curriculums will be updated to limit usage of pool toys, and any toys used will be sanitized between each lesson.
All Swim Associates in the water will be wearing face shields to provide additional protection for both swimmers and staff. We require that caregivers participating in Baby Blue level classes wear a face covering during lessons.
Chairs have been spaced in the lobby to meet social distancing guidelines. Caregivers may not be allowed to view lessons from on the pool deck depending on local social distance guidelines.
Within the waiting area, all cubbies and difficult to clean surfaces have been removed temporarily.
After
Swimmers will exit from a separate pool door to provide a one way flow of traffic on the pool deck.
Swimmers will be allowed to independently use the showers on the pool deck for a quick rinse before exiting. Private showers in the changing rooms will be closed until further notice.
Hair dryers are available behind the front desk to be loaned to individual families to ensure it is disinfected after each use. You may also bring your own hair dryer from home if you prefer.
All high touch and shared surfaces are thoroughly cleaned during and after each 30 minute lesson block, as well as an enhanced cleaning protocol at close each evening.